"These commandments....impress them on your children..."
Crystal Schnurpel shares about how the way we live in relationship with others affects our witness to the world.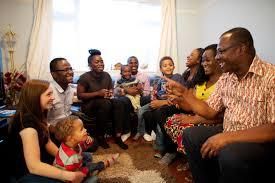 The questions are to spark conversation as a family. You know your family best so please feel freedom to use these tools in ways that work for you. The points under the questions are possible talking points to use as needed.
Ask: What is a witness?
"One who has personal knowledge or experience of something" (wordcentral.com).
Someone who sees something
Someone who can talk about something they've experienced
Ask: Where do you usually hear the word "witness"?

Witnesses appear in court
When there is a car accident
The police take statements from witnesses
Say:
I am going to show you a video clip and I want everyone to remember at least one detail, and then tell us why that one thing caught your eye, why did you find it interesting?
Show:
A video clip depicting one or several car crashes. I'd suggest this one called
Snowy Car Crashes
(nobody gets hurt in this one)
Ask:
What is one thing you think you could do to tell the story of Jesus through your life?
*Adapted from https://teresaklassen.wordpress.com
What You Need: 4x6 cards, markers, crayons, camera, pictures
What You Do: Today we're filling the frames from last week. Fill with things like:
You can take this month's memory verse and put it in a frame
Or this verse was talked about in our family message: John 13:35
Other favorite verses that remind how to be good witnesses
Pictures of your family because showing love to them is a good witness.
What You Need: Binoculars for each person, String, Marker
What You Do:
Each family member write your name on your binoculars.
Tie the string onto the binoculars.
This week be on the lookout for family members showing love in a way that if others saw it, they'd know you love Jesus.
When you see someone showing love to someone else, go and hang your binoculars on their doorknob or choose a place for each family member to look for their Witness Award.
Your name is on it so they know who saw or experienced their loving act.
Maybe at dinner every night each person can say why they gave their award to the person they chose.
This game can go on all this week as you are preparing to celebrate Thanksgiving.
When my heart is overwhelmed, lead me to the rock. Psalms 61:2
We'd love to pray for you.
Let us know how we can be praying.