"These commandments....impress them on your children..."
God is drawing all people into love for each other and knowledge of His love for them. We can show this love by telling others when we're hurt, asking forgiveness and caring for others.
Watch Pastor Jeremy unpack and try out this week's activities.
Pastor Shawna shares what reconciliation is and how God's plan is that every nation, tribe and tongue worship together and work together in community.
Part of reconciliation is being peace-makers and standing up for those who need support. Sometimes it's hard to think of what to say in the moment, but if we practice it ahead of time, we can be more prepared.
Take turns being each role: a bully, a person being bullied and if there's more people, some people watching/observing.
Ideas: laughing at a child because they tripped, not playing with someone who looks different, calling someone ugly or stupid, take something away from them
What can the people watching say or do? What should the hurt person do?
There are many techniques: look for things in common, ask an adult for help, person observing could say, "I'm sorry that happened, I'd like to play with you," walking away, broken record technique: say the same thing over and over, person being bullied can say their feelings are hurt.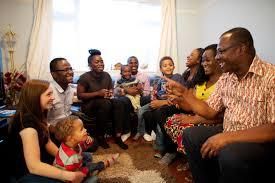 The questions are to spark conversation as a family. You know your family best so please feel freedom to use these tools in ways that work for you. The points under the questions are possible talking points to use as needed.
Ask: Have you ever judged someone based on how they look?

Ask: How could you keep yourself from doing this and see others the way God sees them?

Ask: How does it feel to be left out? Or, have you ever been left out because something you can't help?


Ask: What are some reasons people are left out?
Different language/culture
Different abilities
Don't have money/resources
Different family structure
Look/act different than me
Ask: How would Jesus respond to the people who were left out?Ask: How can we respond or continue to work to be inclusive and reconcile with others?
Note:
It is important to reconcile with each other and we also need to reconcile with God. If you want to learn more about how to become friends with God you can watch these videos:
Summary:
With vibrant illustrations and engaging text, this book explains how the false idea of race brings about suffering and division, and why the good news of Jesus Christ brings about the reconciliation the world needs. (Note: The printed version is sold out from the publisher, so this link is to a digital copy.)
Here
is a 4-week family devotional series that Ministry-To-Children and the authors of The Gospel in Color teamed up to create. There are videos and questions and activities to go through as a family.
When my heart is overwhelmed, lead me to the rock. Psalms 61:2
We'd love to pray for you.
Let us know how we can be praying.